Transmission Flush Saves! Say Yes!
Depending on the make and model of your vehicle, and whether you purchased a rebuilt or new transmission, replacing the tranny assembly can cost more than $3,500. That's equal to a fun family vacation (not in Paris okay?) at Shasta Lake or that killer fishing trip you had planned. The good news is that maintenance is as easy as changing the fluid or doing a transmission flush, and that alone will drastically increase the life of your auto's transmission under normal, lite duty, everyday driving conditions. Pro-Trans is a transmission shop located in Redding, California and we service and repair automatics, manuals, foreign and domestic daily.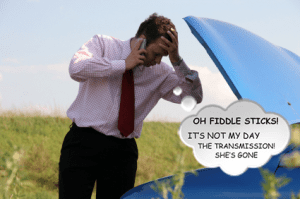 You may have noticed that the mechanics at your dealership or local repair shop recommend transmission flushes. If you have been around the Pro Trans shop, you have heard us recommend it. You might like to know, we will provide a quick "how to" guide for changing the automatic transmission fluid (ATF) in your vehicle at the end of this post. But for now, if you can do it yourself, do it now, before the summer heat sets in and makes your driveway a frying pan. Remember, you have to lay down on that pavement to drain that transmission of its vital fluids. Looks cool if you're a kid. Not cool when wearing old office clothing, making countless trips to the tool box because you're not sure if you need a ½ or ¾ socket. If you would rather have us do it, have us call you to schedule an appointment. While you wait for us to complete the task, head over to Starbucks for coffee, a cool drink.. on us! We will get or call you when done.
Advantage Of Replacing The ATF Fluid
Some automakers claim that drivers do not need to change the fluid in their transmissions. They suggest the ATF can last the life of the transmission.
This claim may not be entirely true. The fluid is filled with chemicals that help protect your transmission during operation. The problem is, the heat surrounding the transmission assembly causes the temperature of the ATF to rise. If the temperature exceeds your vehicles specification, there's likely a problem with your transmission cooler. Not good!
What happens when the heat of the day sky rockets? Well, we drink more ice tea, but the moving parts of
your cars transmission begin to generate friction! Transmission parts eventually wear causing shifting to become staggered or uneven. You won't like driving that car, we promise! And the cost of repair will be extremely…not cool.
What happens when you flush? Your transmission that is! Replacing the transmission fluid introduces a new batch of protective chemicals into the assembly. They prevent the friction that can eventually destroy the gears and other components. Thus, changing the ATF prolongs its useful life, and postpones an overhaul of your bank account.
How often should you change the fluid? Many mechanics suggest changing it every 30,000 miles, but placing a load on the transmission will accelerate the fluid's oxidation. For example, that long family vacation over the summer where you drove your station wagon over Tioga Pass, towing a camper, at 60 mph! Look, you get the idea. We understand station wagons have gone the way of the classic car, but today's 2013 model car, truck or van is not bullet proof when demanding driving conditions put a strain on your vehicles key component, the transmission.
Potential Hazards Of "Flushing" The Transmission
This brings us to the question of whether flushing your transmission is necessary and safe. By cleaning the system, the ATF can flow through it more easily, providing a higher level of lubrication. There is a danger, however, that knocking loose the deposits will cause bigger problems down the road.
If the deposits are pushed through the assembly, but not expelled, they can create an obstruction that prevents fluid from flowing. This will essentially starve your transmission of ATF, which can quickly lead to costly repairs (or worse, an overhaul). Routine transmission flushes will mitigate this unfortunate disaster.
It is worth noting that flushes are generally not recommended for high-mileage vehicles (those with over 100,000 miles) for this reason. If you haven't had a tranny flush in over 80,000 miles, it might be smart to ask us first what you should do. We will certainly steer you clear of a financially compromising situation. Of course we want to replace your transmission, but we also want to be relevant when it comes to your financial interests. If we can save you money, maybe you will refer us to your friend or family member that needs a new transmission because they enjoy downshifting into 2nd gear on the highway, at 80-mph over and over again, and then doing donuts in the Kmart parking lot at 2:00 AM, in reverse. Stuff like that. Everyday stuff.
Examining And Changing The Fluid
Thus far, we have explained why changing the ATF is a good idea, and the reason flushing your transmission is a poor one. We'll now explain how to do the former.
Before you start, check the scent, color, and consistency of the fluid. If it is darkly colored, it needs to be changed. If the fluid is static (i.e. it does not spread), oxidation has already occurred.
Locate the pan in which the fluid sits, typically, beneath the dipstick, and loosen the bolts that are holding it in place. Some pans will be equipped with a drain plug that can be removed in order to drain the fluid. With the pan removed and the ATF drained, clean any residual transmission fluid that remains in the pan. You'll likely see small metal particles; remove them, than give us a call. Small metal particles are not a good sign.
Next, replace the transmission filter, and the gasket around the perimeter of the pan. With everything in place, add the new ATF. The takeaway of this post is that you should check your transmission fluid on a regular basis, and definitely replace it when it becomes oxidized. Hopefully before! Avoiding having the transmission flushed can cause more harm than good.